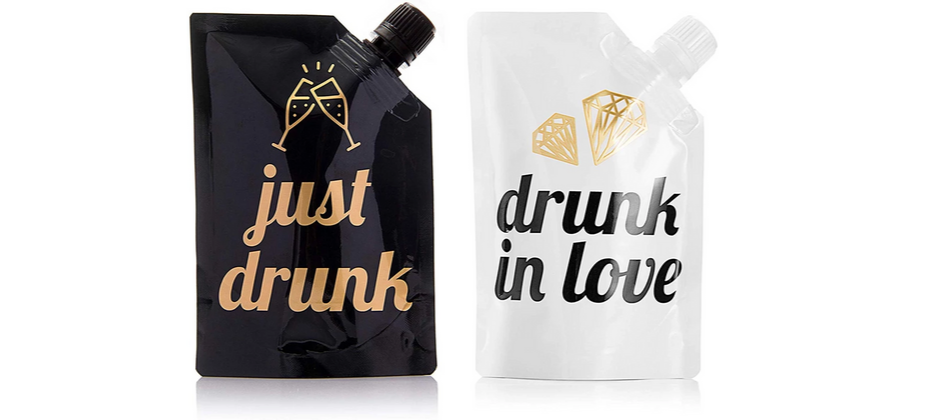 Thanks for considering Pop Fizz Designs. We love creating products to help you throw an epic party!
We love hearing from our customers. If you have any questions, please don't hesitate to ask.
How to Cheer up a Bride Who's Had to Postpone
Covid-19 has hit a lot of people hard, and a lot of large events have had to be cancelled, which can be very disheartening. This is especially true if it's something that you've been planning for a long time - like a Bachelorette or a Wedding. If you know a Bride who's had to cancel or postpone, and needs some cheering up, here are some ideas of how you can show your support, while social distancing! 
DIY Pinterest Crafts
In times like this, it's important to try and put a positive spin on things! One thing that has been gained is time - and it's important to remind the Bride that her wedding and Bachelorette will still happen, just at a later date. Why not band together with your Bachelorette crew and offer to do these crafts together to show support for your Bride? Use this time to DIY all the things she originally wanted for her wedding but didn't have time to do! Once again, this could be done as a group via FaceTime or Skype, to show your Bride that she still has all everyone's support.
Looking for some inspiration? Here are a few super cute crafts that you could have a go at making:
Virtual Movie Night
One easy way is to show her that just because her wedding's been postponed, the wedding excitement doesn't have to stop! Hosting a virtual movie night where you watch funny wedding-themed movies, like 27 Dresses, Bride Wars, or Bridesmaids! These movies are sure to get a laugh out of any Bride-to-be and are a nice way to create a bit of normalcy.
The Chrome extension Netflix Party lets you and your friends simultaneously watch a film on Netflix while chatting alongside it. If the film you're craving isn't on Netflix, just using FaceTime will still let you get a bit of quality time with your Bachelorette crew, even while you can't be face to face. 
Virtual Happy Hour
Social distancing doesn't mean that you can't have a girls night with your Bride Tribe! Set up a group video chat - through Facebook video, or the app House Party - and turn on your favourite music! 
Next, make your favourite cocktails, or randomly select one for each member of your group that they have to recreate as closely as possible with what they have in their house. If you're feeling competitive, rate each other on presentation and accuracy - highest scorer wins!
One of the best parts of a girls night out is getting to chat and catch up with your BFFs, and this is something that you can easily do via video call. So sit down with your drinks, or have a little dance if you're feeling it, and have a heart to heart. This is a challenging time for everyone, so making sure that your Bride, and the rest of your friends, know that you are there for them is a great way to lift spirits. 
At-Home Workouts
Being sat at home with nothing to do can really get you down - so why not challenge your Bachelorette squad to try some at-home workouts? Not only is this a productive use of time, but exercising can also make you feel a lot happier, due to the endorphins that are released!
An easy way to try some at-home workouts is by following along to a Youtube video that guides you through all the necessary steps. You could suggest to your Bride that you all follow along to the same video; this will make you all feel more connected!
Here are some Youtube channels we love for at-home workouts:
Blogilates - Blogilates has lots of workouts for different levels, mostly based on techniques from pilates!
Pamela Reif - if you're looking for a workout that doesn't require any equipment, this is the one for you!
MadFit - this channel uploads a workout video nearly every day, so you'll always have something new to try!
Virtual or at home Bachelorette
Having a Bachelorette party doesn't mean that you need to go out - in fact, you can host one from your home! 
A virtual Bachelorette can be just as fun! Choose a theme - it could be 90s Baby, or Final Fiesta - and a dress code for your video call!  Play your favourite music and dance along, make some drinks as suggested in the virtual Happy Hour, and have a laugh with your friends. Just because you're having a virtual Bachelorette doesn't mean that you can't have another one after the wedding too! Your Bride definitely deserves at least two parties dedicated to her big day!
Another option is a small, at home Bachelorette - check out our other blog post for ideas on how to host!
We hope this blog post has been helpful in these trying times - if you need more tips on how to reschedule or postpone a Bachelorette, check out our other blog post that goes over the Dos and Don'ts. We also have a Facebook group dedicated to Bachelorette party planning, if you're looking for like-minded fellow Brides or bridesmaids who can offer support.