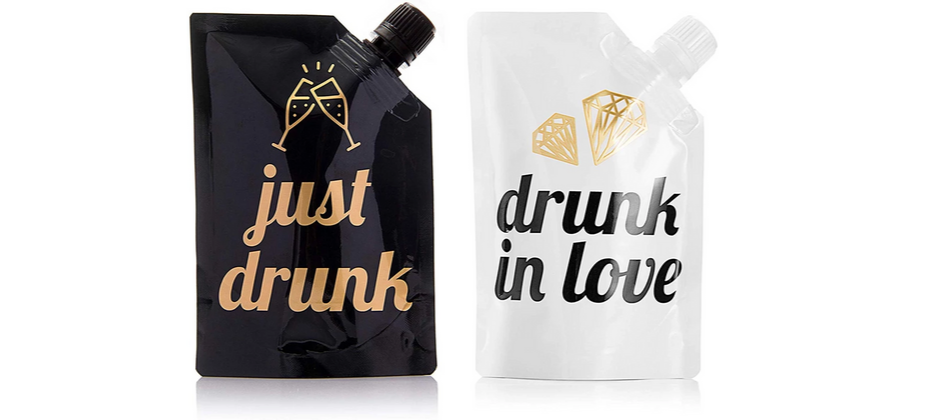 Thanks for considering Pop Fizz Designs. We love creating products to help you throw an epic party!
We love hearing from our customers. If you have any questions, please don't hesitate to ask.
Top 10 Bridesmaid Gifts
Are you looking for items to fill your Bridesmaid Proposal Boxes or Thank You gifts for your Bridal Party? This blog lists the top 10 items to get your Bridesmaids. From bath bombs to sashes to robes, each and every gift is special. You can't go wrong with any - or all - of these gifts. 
1. Hair Ties 
To have and to hold... your hair back! Hair ties are a great bridesmaid gift because every girls uses them! They are also personal to your party, making them even more fun to wear together. We have a few different types of Bridesmaid hair ties so be sure to check out all of your options. Thar way, you can choose the ones that best match your wedding colors, your bachelorette party theme or your personalities. Check out our Bridesmaid hair tie cards here! 
2. Tote Bags
Tote bags are a great gift because they are so versatile. Use them to pack for your Bachelorette Party, to go to the beach or as a daily purse. They are sturdy and can be used time and time again. Pop Fizz Designs has three different types of Bridesmaid Tote Bags. Click the links below to check out the corresponding designs! 
First Design | Second Design | Third Design 
3. Necklaces
I can't say "I Do" without you necklaces are perfect for your bridal party. You can all wear them out for your Bachelorette Party and even wear them to the wedding. Our necklaces come plated in both rose gold and silver, so they'll match any outfit or theme. Get your Bridesmaid Necklaces for your "I Do" Crew here!  
4. Robes 
Photo Credit: The Fancy Pigeon on Etsy 
Robes are essential to any bridal party. When you're getting ready for your big day, the last thing that you put on is your dress. You will need something comfortable and elegant to wear beforehand. And there is nothing cuter than getting personalized robes and matching with your bridal party. Click here to order yours now. 
5. Tumblers 
Photo Credit: Decorated Bliss on Etsy 
Single use plastic is out and reusable bottles are in. Tumblers are a perfect gift option because not only are they personalized, you're helping save the planet, too! Most tumblers are insulated and can keep your drinks cold for hours. Fill with any number of mixed drinks for a party that will last all night long. Click on the photo to order your tumblers from Decorated Bliss. 
6. Candles 
Photo Credit: Starfield Candle Co on Etsy 
Ranking 7th on our list of Bridesmaid gifts are candles. You can even take it one step further and personalize them to say "Will you be my Bridesmaid?" or add your bridesmaids name. Candles are great because not only will they last a while, but you can save the empty container to use when it's gone. Pick your favorite scent and order your candles today. 
7. Bath Bombs 
Bath Bombs are a sure fire gift, no matter the occasion. They are perfect for a relaxing evening and come in hundreds of scents and colors. Choose a color that matching your Bachelorette Party or Wedding theme. Give your Bridesmaid a reason to relax, and order your bath bombs today! 
8. Framed Photo
Get your favorite photo of you and your Bridesmaid printed and add it to an adorable frame. You can get your frame customized to say her name and the date of your wedding on it. This gift idea is perfect because every time she looks at it, she'll be thinking of the friendship you share. 
9. Mini Wine/Champagne Bottles 

 Mini Wine or Champagne Bottles are an essential in any box. Not only are the great for celebrating your Bridesmaid Proposal, they are adorable too! Mini Bottle are not super expensive, so it's a nice way to add a classy element without breaking the bank. 
10. Calendar or Planner
A planner or calendar is a really cute way to count down to your big day with your Bridesmaids. Fill in key dates- like the date of your Bridesmaid Proposal, Birthdays and your Wedding. It is very personal and sentimental. This is a gift that your Bridesmaids are sure to use everyday! 
Now that you've selected your gifts, you need something to put them in. Check out our affordable yet chic bridesmaid boxes! The are the cherry on top of your perfect Bridesmaid proposal!