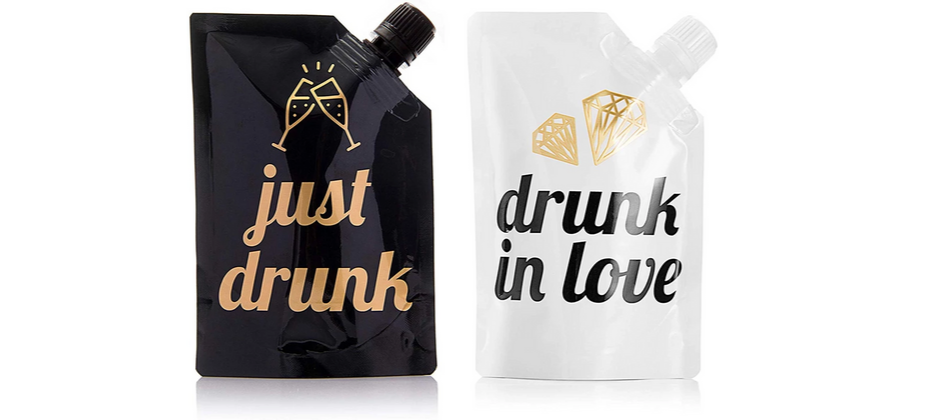 Thanks for considering Pop Fizz Designs. We love creating products to help you throw an epic party!
We love hearing from our customers. If you have any questions, please don't hesitate to ask.
DIY Mini Wine Bottle Labels for the Perfect Bridesmaid Proposal Box and as Easy as 1-2-3!
Let's be honest. Planning a wedding can be stressful. And, for all the brides-to-be who want to pull off the perfect bridesmaid proposal, a little wine for your tribe can go a long way! Pop on a free mini wine bottle label, and you've got yourself a delightful addition to any bridesmaid proposal box. 
But, where to start? 
Have no fear, my DIY bride babes. Pop Fizz Designs has made this bridesmaid proposal box project as easy as 1-2-3. Really! 3 simple steps to make your mini wine bottles sweet and sassy as your bridesmaids sip to your honor. 
So, here we go:
Step 1 - Print
Our mini wine bottle labels are designed and ready to print perfectly on Avery adhesive labels, which you can purchase here. Alternatively you can use shipping labels (like these) and then cut them down to size.
When your blank labels arrive, jump for joy and head to your computer. Choose from one of our 5 designs and download your mini wine bottle labels, load your adhesive labels in the printer and press print. Watch in wonder as the mini wine label magic begins!
Step 2 - Peel
Our label designs come in portrait and landscape so you can choose the best look for your bottles. Once printed and cut, your mini wine bottle labels are ready to apply.
You can go over the top of the boring labels or, for the perfect look, remove the old ones first so your mini wine bottles can flaunt their new frock! Either way, you're one step closer to bridesmaid proposal box perfection.
Step 3 - Place
Now that you've precisely placed the new labels on your mini wine bottles, it's time to place them in the perfect bridesmaid proposal box that you've always envisioned. Imagine your custom-labeled mini wine bottles snuggled between a bride tribe keychain and a 'Can't Say I Do Without You' necklace. Or, spooning a Bride Tribe make-up bag while canoodling with a rose gold 'To Have and to Hold' clutch. Wherever you place your newly attired mini wine bottles, you will be sure to wow your beautiful bridesmaids with your thoughtful gifts and stylish taste. 
It's that simple! Now, let's get your perfect bridesmaid proposal boxes started so you can get to poppin' that all-important 'Will you be my bridesmaid" question.