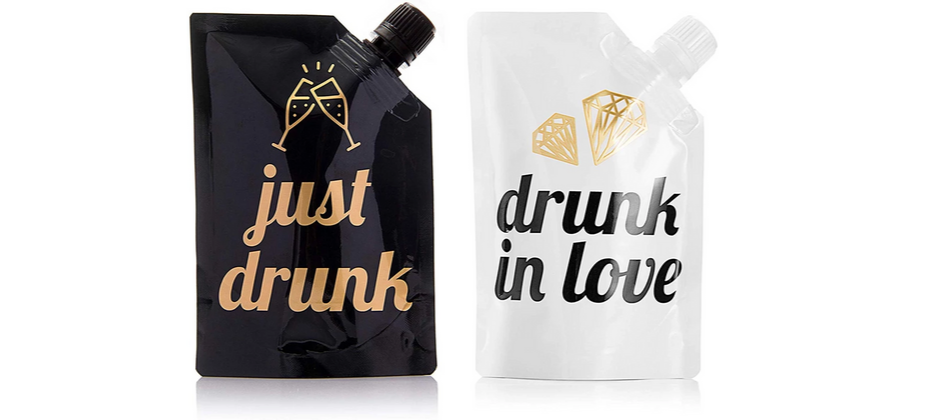 Thanks for considering Pop Fizz Designs. We love creating products to help you throw an epic party!
We love hearing from our customers. If you have any questions, please don't hesitate to ask.
Best Bachelorette Party Restaurants in Miami
Let's taco 'bout something very important, ladies. If you're headed to Miami to tropic like it's hot for your besties last hurrah, a pre-game feast should be an essential part of the fiesta. And with such diverse and delicious cuisine that fits every taste and budget, the Miami food scene is your oyster! 
So, lettuce celebrate you and the "I Do Crew" by getting your restaurant game on point with this ultimate guide to the hottest bach party dining spots in Miami.    
Image Courtesy of drunkendragon.com
I've been hitting up this spot for years now, so take it from me, chicas, Drunken Dragon will not disappoint. Grab one of their signature tiki cocktails at the bar before heading to the grill for some spicy DIY Korean-style BBQ. Every mouth-watering moursel will blow your mind (especially the crispy bok choy), and your bride tribe will be treated like royalty! 
Image Courtesy of byblos.com
Your bride squad is stunning. Byblos is stunning. The Mediterranean-inspired food is stunning. I mean, it's a no brainer. Take your classy crew upstairs for a more open and elegant dining experience, or, if you're feeling a little more dancy and sassy, try nibbling on the hummus royal (with beef wagyu!) in Biblos first floor restaurant where the house DJ spins in the low-lit lounge. You'll be feeling those Miami night vibes in no time. 
Image Courtesy of Free Hand Hotels
You don't often associate hostels with hip, delicious restaurants and bars. But, if you're a savvy, in-the-know jet-setter, you'll definitely be on the list for a table at 27 Restaurant. Tucked away in a cozy, historical house, 27 is made for family-style dining and celebrations. Your farm table will be covered with big plates of eclectic fare as you sip on award-winning drinks from the hostels renowned bar, Broken Shaker. When Team Bride comes rolling in to 27, I promise you won't want to leave. 
Image Courtesy of Bazaar 
Oh, you and your bach beaches think you're fancy, huh? Well, then put on your stilettos and sashes, and head to The Bizaar at the SLS Hotel. This elegant and over-the-top dining spot will cost you a pretty penny, but the scene is something to experience. Gorgeous patrons sip sassy drinks and nibble on decadent Spanish-style tapas in an atmosphere that even Bridezilla would approve of. Once your bougie bride crew is through, continue the night at Hyde, SLS's chic and sexy club by the pool. Dance the night away, and don't look at the bill. 
 Image Courtesy of @crazyaboutyoumiami
For a more low-key night that doesn't skimp on the view, pile the bride tribe into a Brickell-bound Lyft and grab a spot at Crazy About You. With sweeping views of Biscayne Bay, Crazy About You hooks you up with comfort food faves like pulled pork quesadillas and shrimp pad thai. It's also known for its big party celebrations, so the squad will feel right at home! 
Image Courtesy of @thewynwoodwalls
If you and your hipster besties prefer a trendier spot where all the cool kids play, then grab some grub at Wynwood Kitchen and Bar. Take the Wynwood Walls tour first, and snap those stories for the gram, before settling down at one of the restaurant's outdoor tables to pop bottles, people watch and dine on delicious latin-influenced cuisine. Once those libations and trendy vibes start flowing, take the future Mrs. and the rest of the bach beaches to boogie at one of the many Wynwood late-night dance parties. You'll feel it tomorrow, but nothing a mimosa can't fix! 
Image Courtesy of Bodega
If you and your senoritas are more of a tacos and tequila tribe, then Bodega is numero uno. This non-pretentious Mexican joint serves up the best tacos in town, with a cool crowd that will quickly get you in the fiesta mood. Once you've tucked away at least 3 of their signature tacos, and washed it down with a frozen margarita (or 3), there's no time to siesta, because the fiesta continues in the speakeasy club in the back where you and the chicas can dance the night away celebrate the last Ole!