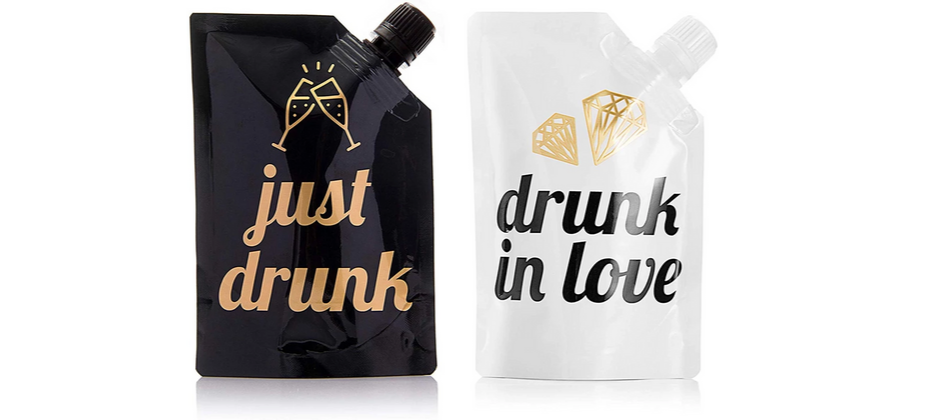 Thanks for considering Pop Fizz Designs. We love creating products to help you throw an epic party!
We love hearing from our customers. If you have any questions, please don't hesitate to ask.
5 Best Bridesmaid Proposal Box Items
If you're in the process of proposing to your Bridesmaids, but just aren't sure how to go about it, this blog is perfect for you! It has the Top 5 ideas for things to put inside your proposal box. All of these items are great gifts, but they can also be used at your Bachelorette Party- so it's a win/win. Looking for cute affordable boxes to put all your goodies in....get some here! 
1. Hair Ties 
There is no better gift for a group of girls than matching hair ties. Practical and pretty- the perfect combo for a bridesmaid gift your girls will love (and actually use!) Our hair ties are made of elastic ribbon, so they won't damage your hair or leave unwanted creases after use. And they are cute enough to be worn as bracelets. They are so versatile. We sell them in 6, 10 and 20 packs. Neutral colors can match any proposal. Pick some up here! 
2. Necklaces
Let your Bridesmaids know that "I Can't Say I Do Without You". The necklaces come on the card shown above, so they're ready to gift as soon as you get them. Available in Rose Gold and Silver, our premium plating, is made to last. These are a gift that your "I Do" Crew will wear over and over. Pick up a pack of 6 or a pack of 10 here!
3. Wine Glasses 
Photo Credit: LetsRemember on Etsy! 
Wine. Wine. Wine. Who doesn't love wine? Stemless wine glasses are a great addition because they are small enough to fit inside our boxes. You can get them personalized and even add the date of your Bridesmaid Proposal or Wedding on it. Every time your Bridesmaids use their wine glass, they will be reminded of all the amazing memories that you have shared! 
4. Cookies 
These cookies are almost too cute to eat...almost! Cookies are perfect for your Bridesmaid Proposal Boxes because they are cheap and universally loved. Make the cookies yourself for an extra special touch. 
5. Little Wine/Champagne Bottles 
Mini Wine or Champagne Bottles go perfectly alongside the stemless wine glass from above. Not only are the great for celebrating your Bridesmaid Proposal, they are adorable too! Mini Bottle are not super expensive, so it's a nice way to add a classy element without breaking the bank. 
2 comments